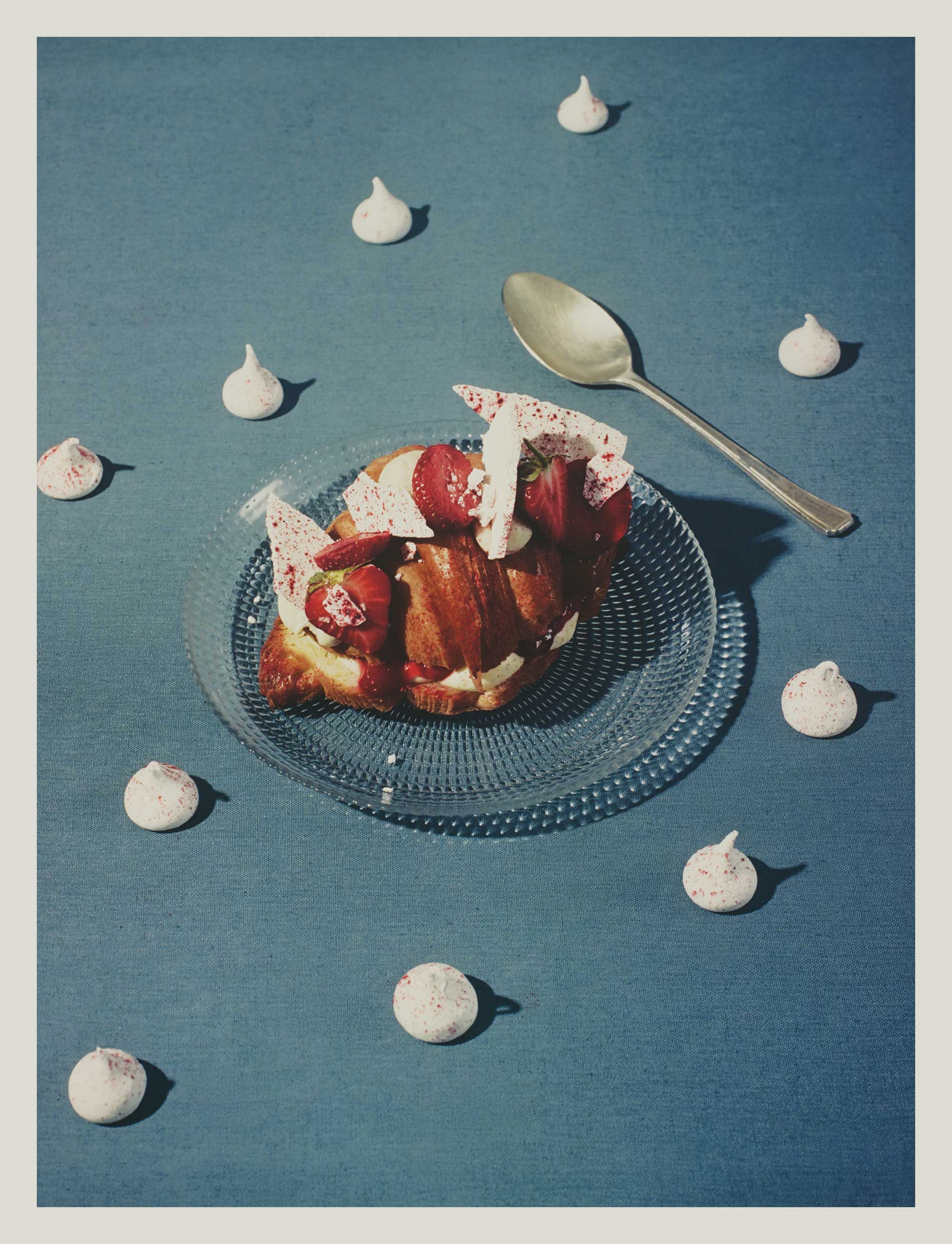 01
Croissant
Chocolatine
Almond
Gruyere & Ham
Eton Mess
Strawberry compote, crisp meringue, vanilla cream, fresh strawberry, mint.
Jammie Dodger
Dodger jam, biscuit custard, shortbread raspberry crumble, fresh raspberry, mini dodger.
Bombay Twice Baked
Coconut frangipane, sweet mango chutney, cardamon white chocolate, curry sugar.
Twice Baked Lemon Meringue Pie
Pie crust frangipane, lemon curd, torched swiss meringue
Twice Baked PB&J
Peanut butter frangipane, blackcurrant jam, peanut brittle, berry jelly cubes.
The Darkness
Chocolate dough layered with chocolate butter, dark chocolate, chocolate cream, chocolate drip.
Miso Manga
Black cherry, miso caramel, black sesame custard, matcha.
The Neapolitan
Vanilla almond frangipane, strawberry cream, chocolate dip.
Twice Baked Bourbon Bacon
Chocolate frangipane, maple bacon, bourbon vanilla glaze.
Baked Islander
Salted coconut frangipane, mango jam, lime drizzle, toasted coconut.
Twice Baked Bakewell
Almond frangipane, marzipan, cherry jam, flaked almonds.
Twice Baked Raspberry Lamington
Almond vanilla frangipane, raspberry jam, chocolate coconut dip.
The Hazlenutter
Praline cream, salted caramel, milk chocolate hazelnut dip.
Peaches & Cream
Raspberry ripple vanilla cream, peach & thyme compote
Pain au Pig
Pork sausage, caramelized onion.
Praise Cheese
3 cheese, mustard, beer, spring onion, confit garlic.
3 Little Pigs
Morcilla, tomato bacon jam, cracking bits.
Gremolata
Vegan cream cheese, confit garlic, lemon, parsley, vegan dough.
Romesco
Sun blushed tomato, roast red pepper, hazelnut, vegan dough.
Mojo
Manchego, spring onion, jalapeno, orange.
Please note that these are sample flavours and change seasonally and are not all available at the same time.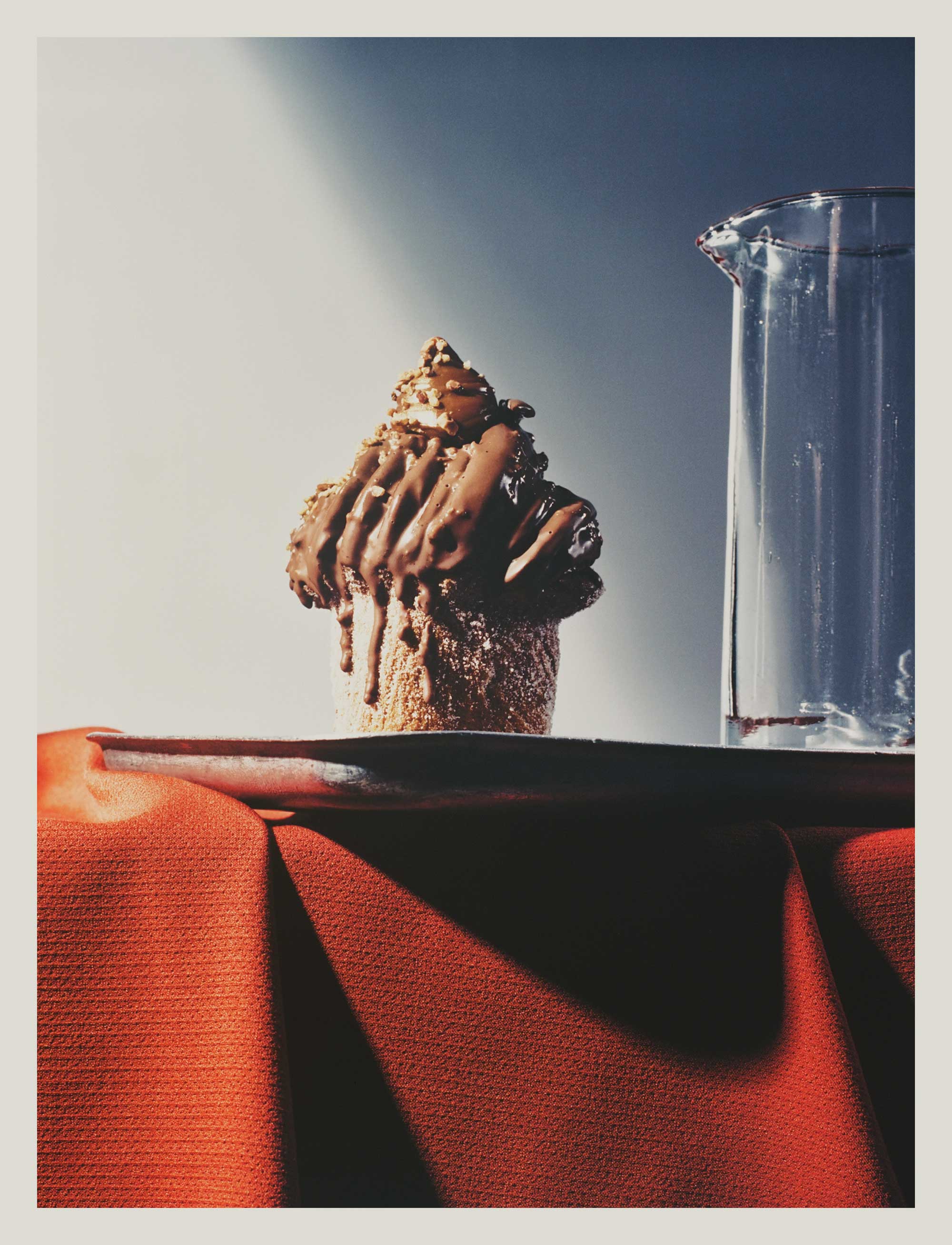 02
Cruffin
Tiramisu
Vanilla mascarpone, espresso ganache, white chocolate dip, coffee cocoa nib crumbles.
Pina Colada
Coconut rum curd, caramelized pineapple compote, pineapple sugar.
Pretty In Pink
Lemon verbena custard, raspberry jam, Raspberry chocolate dip, raspberry sugar.
Tonka
Tonka bean custard, black sesame brittle.
B.C
Whipped vanilla cheesecake, banana dulce de leche, roast walnut.
Lip Smacker
Passion fruit curd, blueberry compote, curry sugar.
Calm
CBD infused chocolate custard, mint sugar.
Dark and Stormy
Chocolate dough, passion fruit & ginger curd, spiced rum ganache, crystalized ginger, dark chocolate dip.
Turkish Delight
Pistachio cream, rhubarb jam, turkish delight, rose petal, fresh raspberry.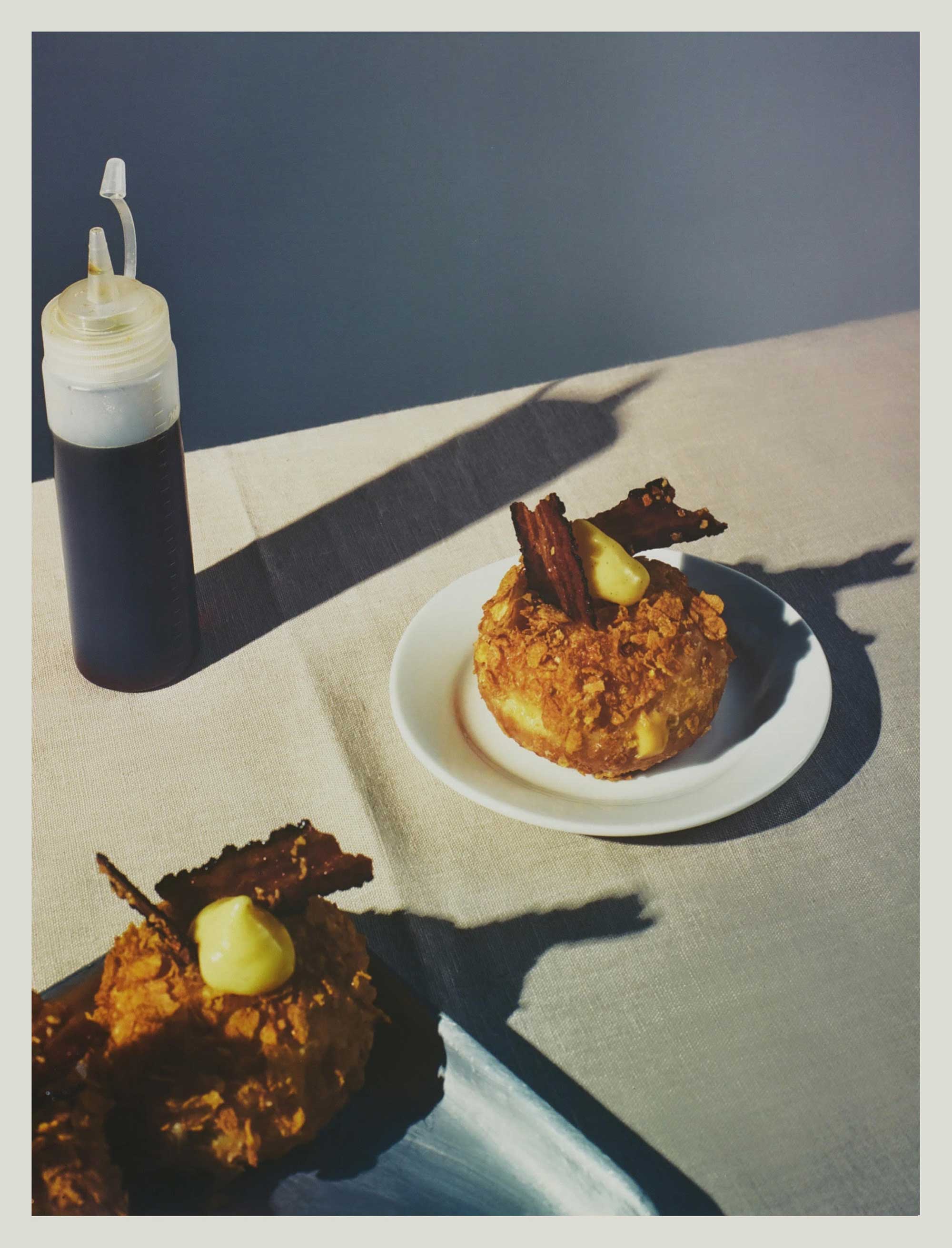 03
Doughnut
Classic
Lemon Curd
Vanilla Custard
Chocolate Custard Honeycomb
Nutella
Raspberry/Strawberry Jam
Cinnamon Ring
Pistachio Cream
Breakfast Nut
Cornflake custard, maple glaze, candied bacon, toasted corn flakes.
PBJ Nut
Peanut butter, banana jam, dark chocolate half dipped, banana milk crumb, salted peanut.
Cold Brew Nut
Cold brew custard, white chocolate ginger glaze, cocoa nib.
Strawberry Milkshake Nut
Vanilla custard, strawberry compote, strawberry glaze, milkshake crumble.
Brulee Nut
Vanilla brulee custard, caramel crack glaze.
The Morny Nut
Lemongrass custard, blackberry chilli jam, torched chocolate meringue.
Rocher Nut
Praline custard, Hazelnut milk chocolate half dip.
Black Cherry Mascarpone Nut
Whipped mascarpone, black cherry ripple, dark chocolate glaze, freeze dried cherry. (fresh in season)
Jaffa Nut
Chocolate orange ganache, blood orange jelly, dark chocolate.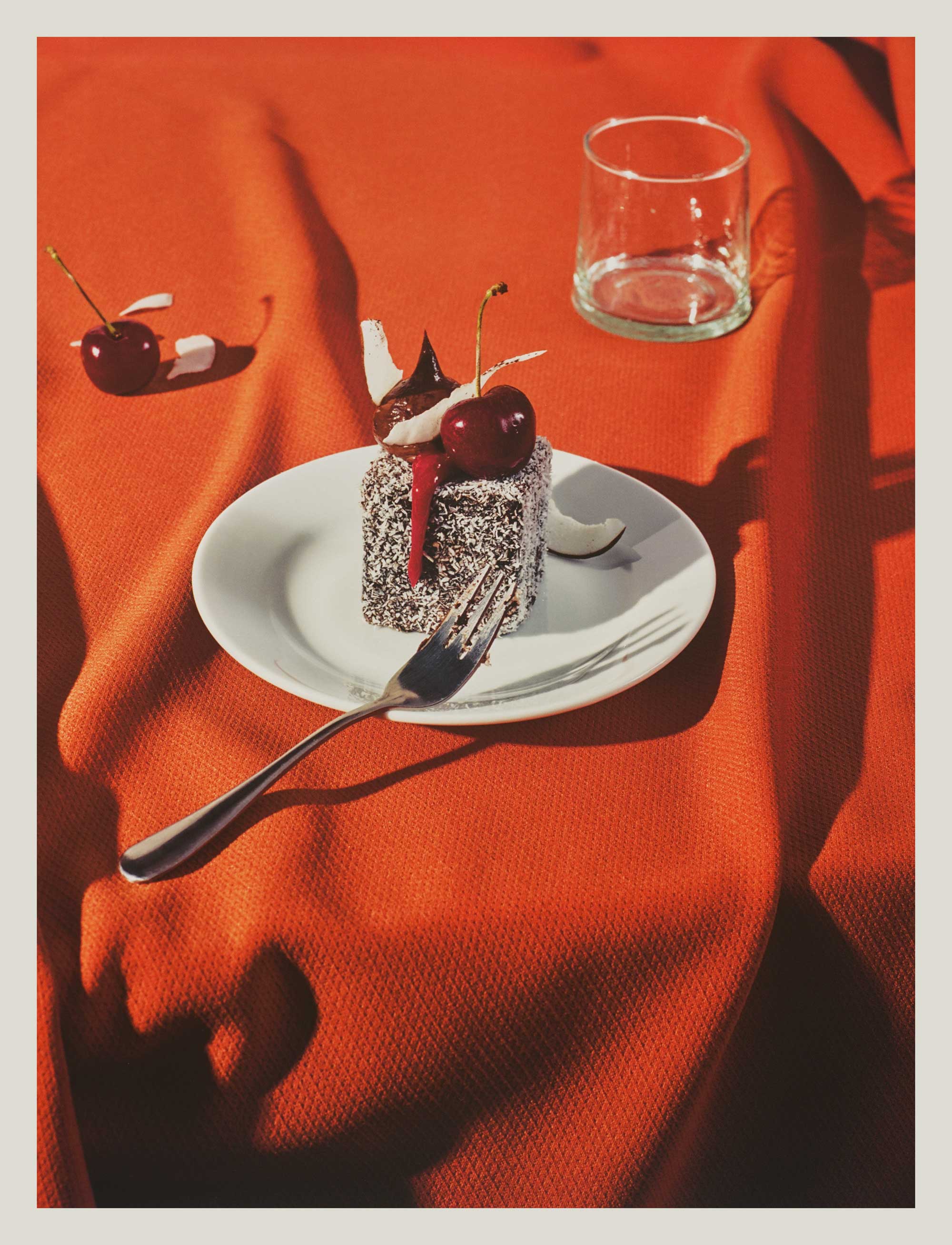 04
Speciality
Lamingtons
Fat Compost Cookies
Brioche Feuilletée Loafs
Tarts
Cream Puffs/Eclairs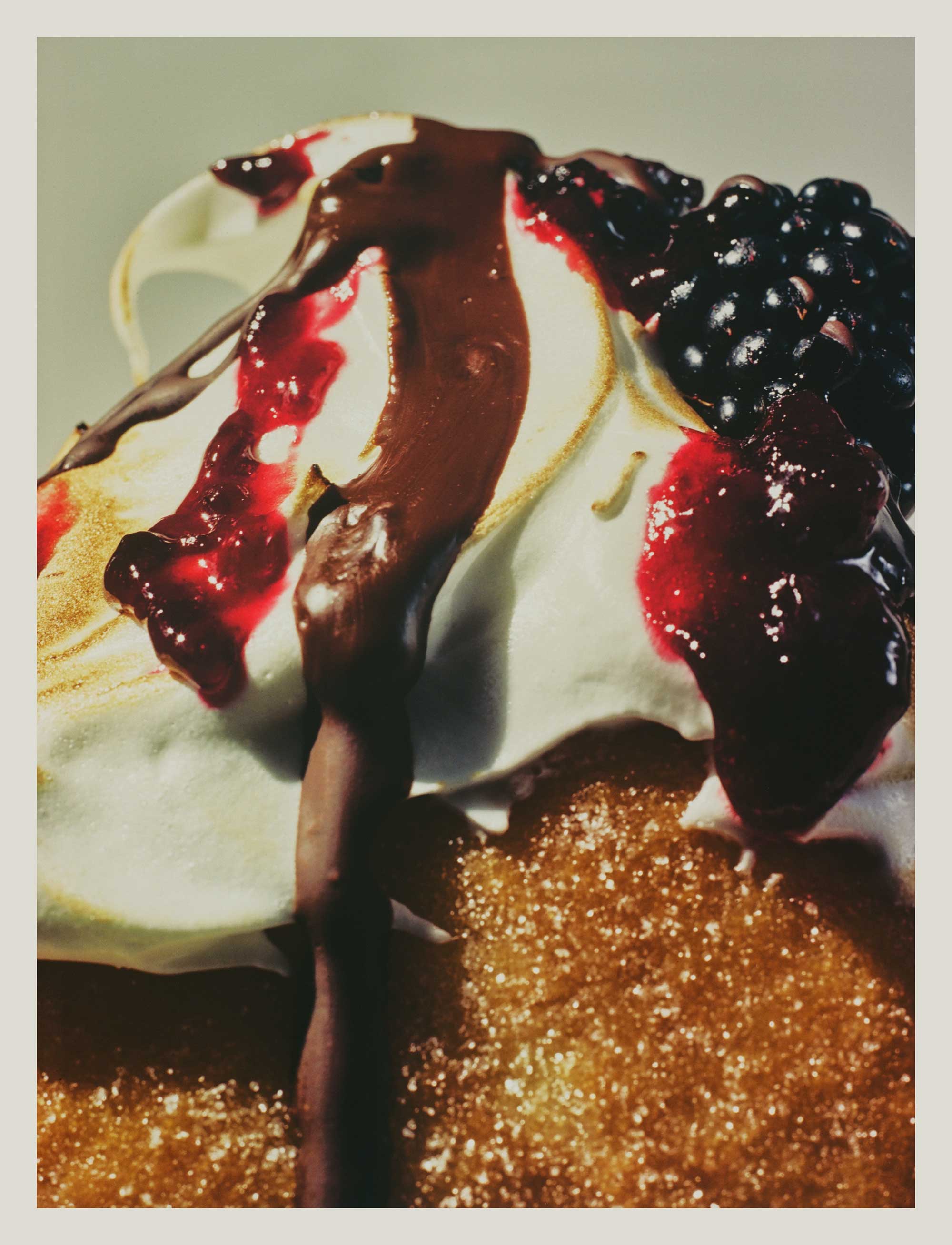 05
Celebrate!
Honey & Ginger Cake
Ginger sponge filled with honey custard, chocolate ginger ganache, passion fruit curd and honeycomb pieces decorated with bees and honeycomb chocolate shards.
Banoffee Pie
Brown sugar banana sponge filled with salted dulce de leche and vanilla cream cheese frosting, banana jam caramel crisp pearls, banana chips, roast pecans, milk chocolate shards.
Triple Chocolate
Dark chocolate sponge, milk chocolate and white chocolate mousse, Brownie pieces, chocolate bars, white chocolate milk crumb, salted caramel sauce, chocolate cremeux.
Eton Mess
Vanilla sponge, strawberry buttercream, vanilla custard, strawberry jam, strawberry milk crumb, fresh and freeze dried strawberry, crisp meringue.
Blueberry and Lemon
Vanilla sponge, lemon curd, blueberry buttercream, vanilla custard, blueberry compote, lemon milk crumb.
Mango Coconut
Vanilla sponge, lime syrup, chewy coconut daquise, mango compote, whipped coconut ganache.
Guiness & Black
Chocolate Guinness sponge, blackcurrant curd, blackberry sauce, fresh blackberries, cream cheese frosting, chocolate shards.
Dark Chocolate Passionfruit
Dark chocolate sponge, chocolate cremeux, passion fruit brulee cream, chocolate crunch, fresh passion fruit.
Cherry Bakewell
Almond sponge, vanilla buttercream, amarena cherries, almond crunch.
Pistachio & Raspberry
Vanilla sponge, pistachio sponge, pistachio buttercream, raspberry mousse, raspberry sauce, pistachios, fresh & freeze dried raspberries.
Gianduja Salted Caramel
Chocolate hazelnut sponge, gianduja cream, praline crunch, salted caramel sauce.
Celebration Cakes
Please note that these are sample flavours and you should get in touch to discuss flavour and bespoke designs.